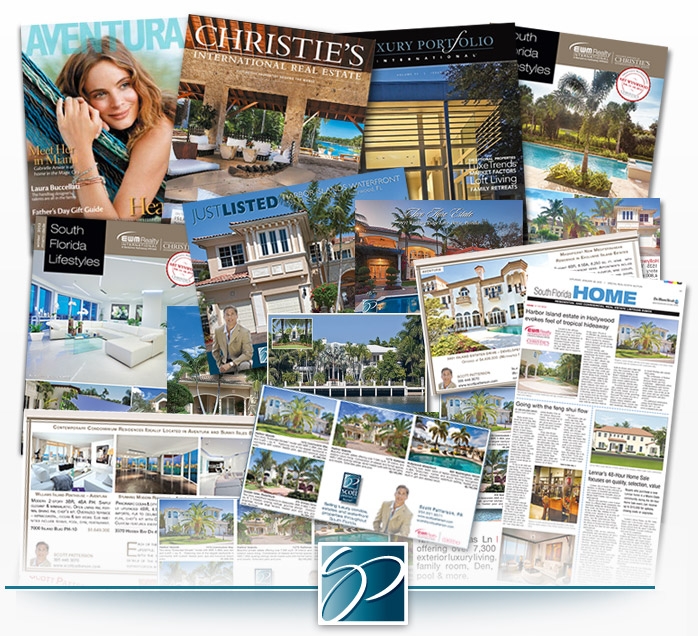 With more than 17 years of experience in South Florida real estate, Scott Patterson understands how to sell and market your Harbor Islands property locally, nationally and internationally. A master of every aspect of marketing, sales and negotiations, Scott has a long track record of assisting not only Harbor Islands homeowners but also South Florida homeowners to obtain the highest market value for their properties.
Today, Scott enjoys selling the "South Florida Lifestyle" and he has a steady stream of referral business from his highly satisfied Sellers and Buyers. Driven by his passion for real estate, Scott stays on top of the constantly changing real estate market, drawing on the his wealth of knowledge, experience and professionalism. All of Scott's listings are marketed worldwide through the MLS, Internet, print and social media, including all the vast amount real estate websites that feature the most attractive and sophisticated properties throughout the world. Scott also has an extensive network of personal relationships with Buyers and Brokers throughout the U.S., Central and South America, Canada and Europe. In fact, he personally sells 35 percent of his Listed properties to his personal network of buyers.
Scott draws on the powerful and wealth of marketing capabilities of EWM International Realty, widely regarded as the leader in market knowledge and personal service in South Florida real estate since 1964. EWM is a member of HomeServices a Berkshire Hathaway affiliate, the second largest full-service independent residential real estate brokerage firm in the US. Scott and EWM International Realty will market your Harbor Islands property throughout the world with the many relationships and affiliations of: Christie's International Real Estate, Luxury Portfolio, Mayfair International Realty, Who's Who in Luxury Real Estate, Leading Real Estate Companies of the World, Global Home Search and Berkshire Hathaway Real Estate.
"To discuss your property's value and the latest market trends, please contact me at anytime. I would be happy to assist you in determining the best strategy to market and list your property in today's South Florida real estate market."
Scott Patterson